Expert opinion: – Conservatively minded population is more important than the percentage of overpayment on the loan, but the specific amount that needs to be paid
Good evening.
CP Index Futures
Forecast
Growth continues. (which surprises me so much)
Fact
I don't see another. (fear and trembling)
Europe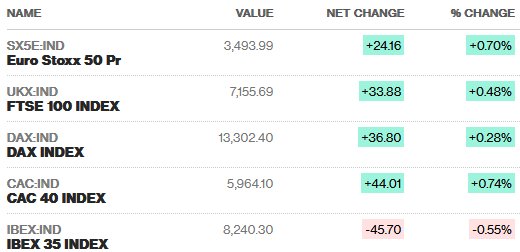 So, like, panic-buy was?!
Germany
Forecast
The punk is pissed off. Only growth.

We wait. (the forecast is the same)
Fact
Just a correction?
Schedule signs
Forecast
We wait.
Fact
Is it just a correction?
Maybe.
But it is not exactly.
Let's see what's up withlandmarks".
EuroDollar
Forecast
Oops… All the negative forecasts – in the furnace?!

Well, well … Drown further.

(I continue to be mistaken)
Fact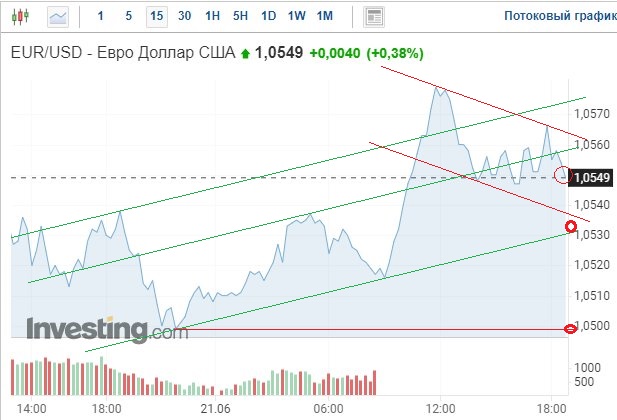 (wow..)
The forecast is negative.
Brent
Forecast
I will be brief: the forecast for today – below 112 ..

(and let me be wrong! I still have a lot of longs, I still have few shorts..)
Fact
As for "below 112", it didn't work out. Too bad, that would be a good joke. And so…
In a rising stock market. against his background. Looks good. In contrast.
The dynamics of the price of oil is a mirror of the dynamics of the stock market (c)
Copper
Forecast
Everything is growing – and the price of copper went up. She went jumping.

Positive? .. Of course. If close to guess.

It's about how to enjoy a panic-buy in the stock market.

(it's a wonderful feeling of flying! like in a child's dream… freedom… like a bird… then you realize that there is no parachute behind you .. Fly, my darlings, fly with God!)
Fact
The forecast is negative.
(conclusions? .. don't know which ones .. let's do it ourselves)

Russian stock market
MOEX Index
Forecast
Once again: I am for growth. From posture.

But the truth is dearer to me.
Fact
Also, presumably, just a correction?
(hope)
Watched from our promotions today Novatek.
Day schedule
RSI is sideways. You can expect growth.

Can. Everything is possible. However, pay attention to how immodest the rise in the stock price relative to the MA, in comparison with the interval between the MA and the Parabolic.

A purely subjective opinion – the price is above 1,000 rubles. unlikely to see. Not that we are talking about "soon", but even in the medium term.

The prognosis is negative: correction, at best. Just a correction. Up to 880 rubles, at best.
Where is it even higher? (look at the RSI, how much it is there .. a record!)
Hourly schedule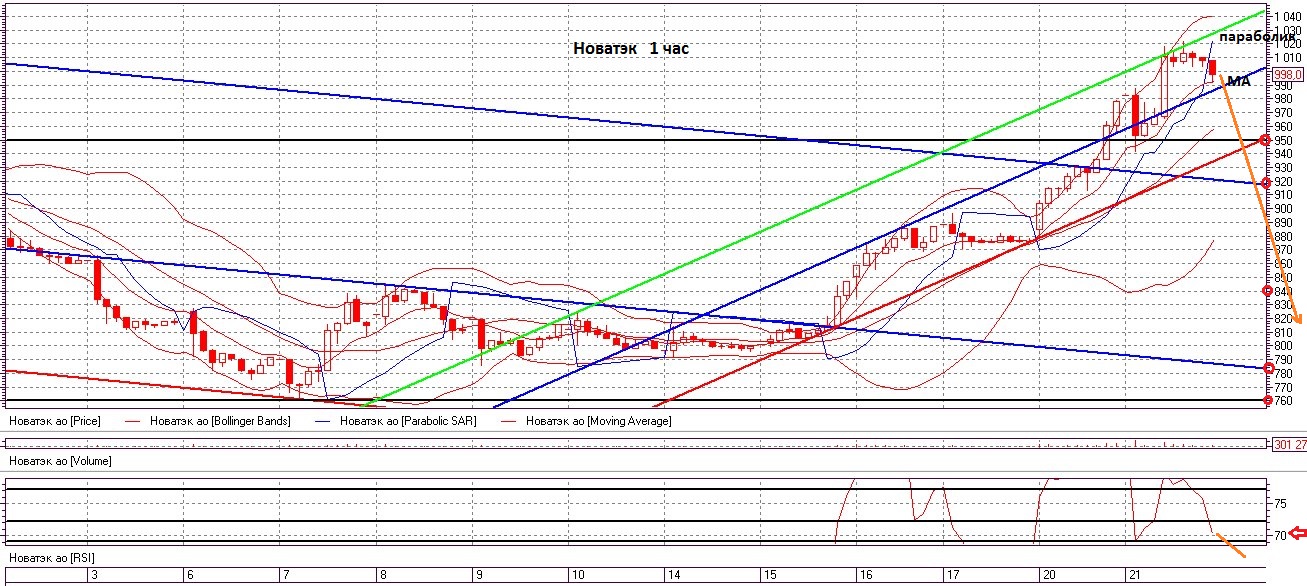 Do what you want with me, but even here – not everything is for growth.

Moreover (if you do not paint everything in detail, then ..) – it is predicted, at least, just a correction to 940 rubles. (easily!)

Make up your mind. (I made my choice)
Tsa immediately rose above the 1,000 rubles indicated as impossible. AND …
Given my mistake, I propose a compromise: you think that now it's just a correction, and tomorrow there will be growth again, I don't think so, and I will continue to set the short pose.
And may the force be with us.
Trading in the USA
CP Index
Forecast (from Review)
The index was carefully raised (so as not to frighten the optimists who decided that the market had found a bottom), and they began to gently lower it. Again – not to scare.

Forecast … What to say, so as not to disturb …

Wait!
Fact
I did not expect that they would break the chain.
Normal, right? Is this growth, I say, normal?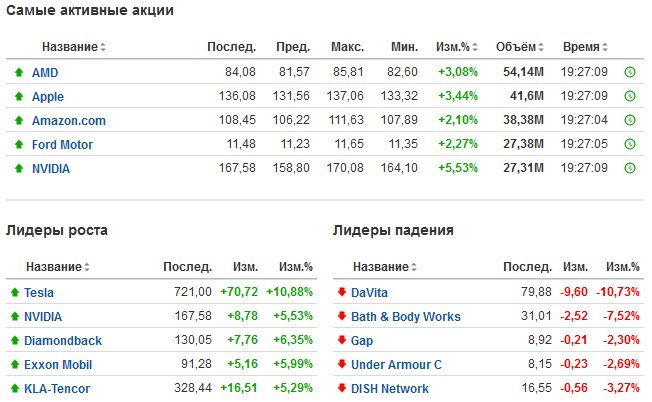 Panic-by.
Schedule signs
Forecast
What was, was. Bylyom overgrown.

The forecast is negative.
Fact
Just a correction, but the forecast .. I won't say.

DollarRuble
Forecast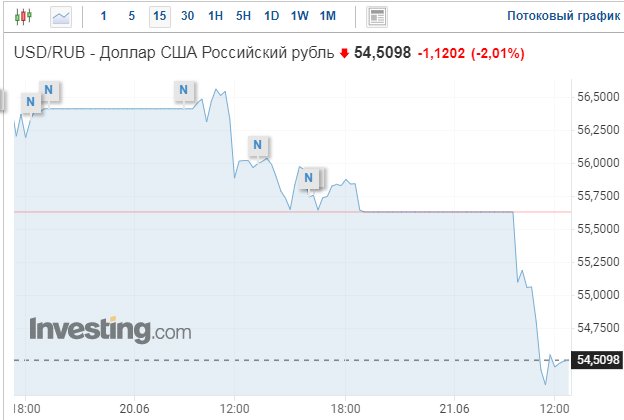 Fact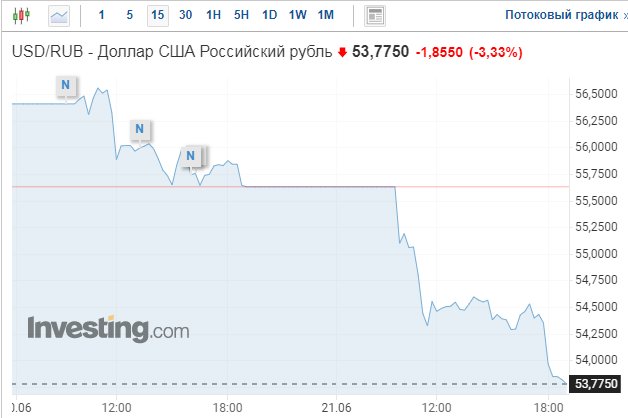 Chief, it's all gone.
From Review:

So I think there are signs of an upward reversal. Pushing off from the lower boundary of the base interval (the level of 55.60 rubles)

All the way up.
Well? What are we waiting for? 60 kopecks per dollar, like in the old glorious times of the Indestructible Union?
RTS index futures (RIU2)
15 minutes.
Forecast
Forecasts are only positive. As with any rally, any decline should be considered only as a reason for buying. Freebie! Buy it – you can't go wrong. Then everything will be higher.
Fact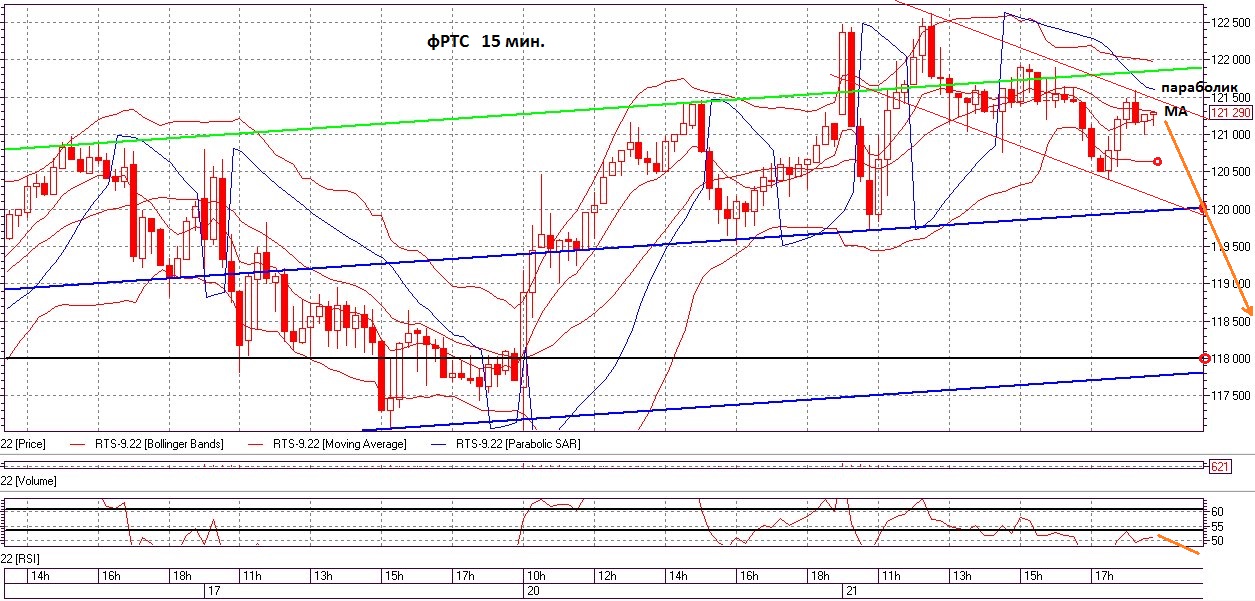 I understand. About only growth, about just correction. Everything. But …
to me So seems.