Good evening.
CP Index Futures
Forecast
Carefully. Doors are closing.
Fact
Don't rush down.
We are not in a hurry, we are not late either.
Swim further.
Europe
Negative.
Germany
Forecast
Rebound.
Fact
The fall.
To be continued.
Schedule signs
Forecast
The forecast is negative.
Fact
Why?!
Let's see what's up withlandmarks".
EuroDollar
Forecast
Growth. Nice to meet you.

Too bad the meeting won't be long. And that's why. (see chart)
Fact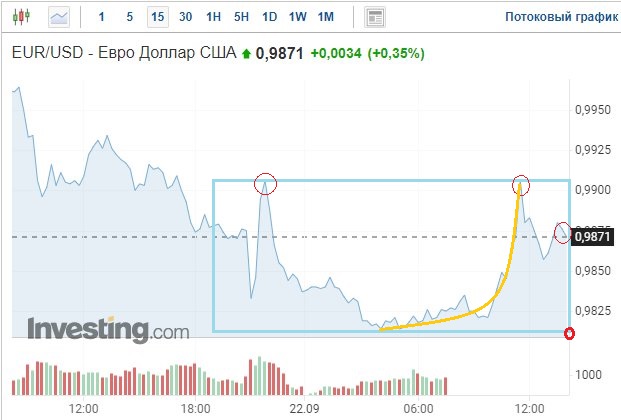 The forecast is negative.
Brent
Forecast
Sorry, was wrong. Not a "pennant", but a "flag". But – "bearish".

The forecast is the same. Negative.
Fact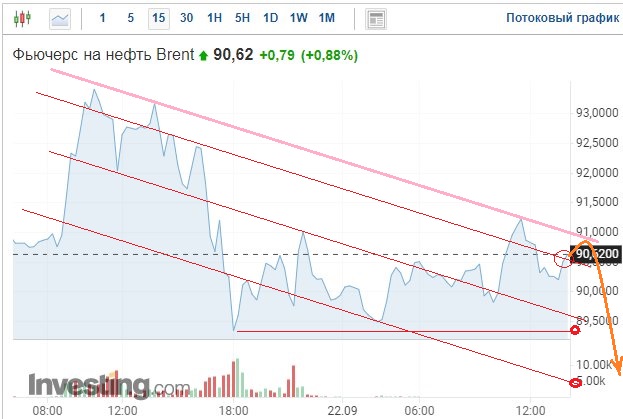 Well, that's pretty boring…
(nothing! We will wait..)
Oil price dynamics – zerkalo dynamics of the stock market (s)
Copper
Forecast
It happens that it's time. Sometimes it's just about time.

Like now.

Harsh time.
Fact
It'll go off the rails, no doubt. And there will be no up-trends in sight.
When? Yes, even this moment.
Began.

Russian stock market
MOEX Index
Forecast
Wasn't ready. Put in an additional couple of requests for sale.

Now it's ready.
Fact
Our "safe haven".
When are the promised "below 2,000" expected?
Waited today. And to me – to spite. Come, they say, tomorrow.
I will come. (you will follow me)
Watched from our promotions today Moscow Exchange (AO).
Day schedule
September has confused many cards. Rally, it's called.

However, the turn down, after all, took place.

(I will refrain from formulating a forecast, so as not to explain later why it did not come true again)

(I will buy for 60 rubles?)

Are you long?!

Restoring the volume of the short position.
Hourly schedule
The forecast is negative.

The immediate goal of the reduction is 84 rubles. (80 get ready)

Trading in the USA
CP Index
Forecast (from Morning)
The Fed raised the rate to 3.5% (+0.75%)

So what?! expected. That is, if the rate increase is considered negative. (fair!), then .. why fall?!

Sell ​​on expectations, buy on facts (With)

Times change. People are intimidated, simple, familiar, logic does not work.

Negative.<***>
Fact
The forecast is negative.
Panic-sell.
Schedule signs
Forecast
And it's the same on this side.

Negative.
Fact
The forecast is negative.

DollarRuble
Forecast
The ruble is strengthening, the back is spinning. After yesterday's market is not in itself.

What? I remember, but how! "Dollar at 45, Brent at 120".

Always ready.
Fact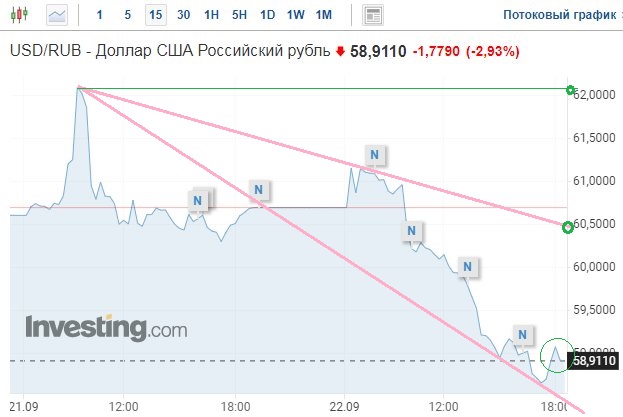 The forecast is the same.
I'm looking forward to growth. Cutting.
Look at Day schedule.

Ascending (rising) triangle.
RTS index futures (RIZ2)
15 minutes.
The Feast of Disobedience is over.

Further – down the arrow by technique.
Fact
They don't want to fall. But it will have to.
Although it is clear why the growth – the ruble is strengthening, albeit unconventionally.
They will fix it.
==
I have everything for today.