September 21. www.nashadurka.ru – Payment status and all conditions are in accordance with the contract
However, we are talking about the market as a whole.
However, we keep order.
CP Index Futures
Forecast
Ruin. Confusion. Up – doesn't work. Down is scary.

Forecast? The picture shows. To not frighten the weak-seeing.
Fact
Two trends – two forecasts?
Is it because you started to rip your wallet again yesterday, did you buy cheaper than last time?
Forecast is one.
Negative.
There are many optimists. Not only in the Russian market. Even yesterday, the forecasts were "buy, because tomorrow this failure will be redeemed".
Positive?
Germany
Forecast (from yesterday evening)
The forecast is negative.
Fact
The forecast is negative.
Decrease goals? .. Somewhere there .. below 12,500 p.
Negative.
(will the panic-sell start now?..)
Schedule signs
Forecast
The forecast is negative.
Fact
The forecast is negative.
Let's see what's up withlandmarks".
EuroDollar
Forecast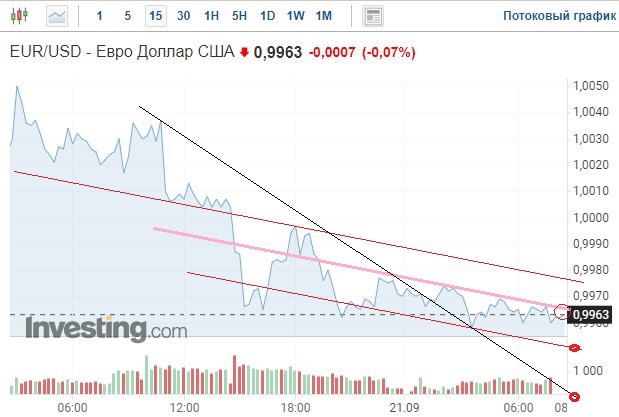 The forecast is negative.
Fact
The forecast is negative.
Brent
Forecast
Optimism?

Everything passes. This too shall pass.

(I could have outlined the down trend more abruptly, but I was afraid of responsibility)
Fact
Why such growth? Military award, or what?
Then – big merci to you. Sank Yu. Russia will sell more expensive. With a discount "for friends" it will be possible to sell it as if it were (discounts). Although…
Why are we on 15-min. look at the chart? Look at Daytime.
Brent 120 you say? Peacocks? .. Oh well.
Oil price dynamics – zerkalo dynamics of the stock market (s)
Copper
Forecast
The forecast is negative.

And… This negativity is for a long time.

You can earn on this.
Fact
The forecast is negative.
But you hold on.

Russian stock market
MOEX Index
Forecast
There has already been one corrective rebound (which is in the afternoon).

I really hope that there will be more, and a smaller way.
Fact
More specifically?
I would not be so categorical.
From our promotions today we look RusHydro.
Previous entry on the topic – August 18 this year.
Day schedule
Forecast
It doesn't seem to be a downtrend now, but it's not a flat either.

Or sideways, but with slipping?

Trumpet, in short. Siphon. Cornucopia. Negative.

The assessment of the situation will change if only the share price is higher than 0.81 rubles. get a foothold. For now…

The forecast is negative.

The nearest support level is again 0.755 (again 0.725 get ready)

Again, the nearest technical target is not at the top, but at the bottom – the level of 0.69 rubles. (border with underlying base "A")
Fact
Outset? Time to buy?
It is good to. Too good, even. Shorchu.
Target? Minimum program – buyout at the border of intervals (level 0.69 rubles)
But you may be lucky – the price will go even lower.
Rebounds? Of course they will! (and you thought it was such a grail – "short, and sleep well"?)
Hourly schedule
The forecast is negative.
The immediate target of the reduction is 0.737 rubles. (0.726 get ready)

DollarRuble
Forecast
Only growth.
Fact
I'm waiting for growth.
RTS index futures (RIZ2)
15 minutes.
Forecast
RI – oversold?! Yes you?! Do not you say!

It happens. But it doesn't stop it from going down.

So do not wait for a rebound on purpose, do not sit in ambush, but take your own. From a short.

As long as they give.
Fact
Now it's just growth. (by arrow)
From Review:
Hence the next forecast – the correction will continue after the decline to 112,000. Until the middle of the base interval (109,230).

Or lower.
Dreams Come True?